Grand Rapids Interfaith Thanksgiving Celebration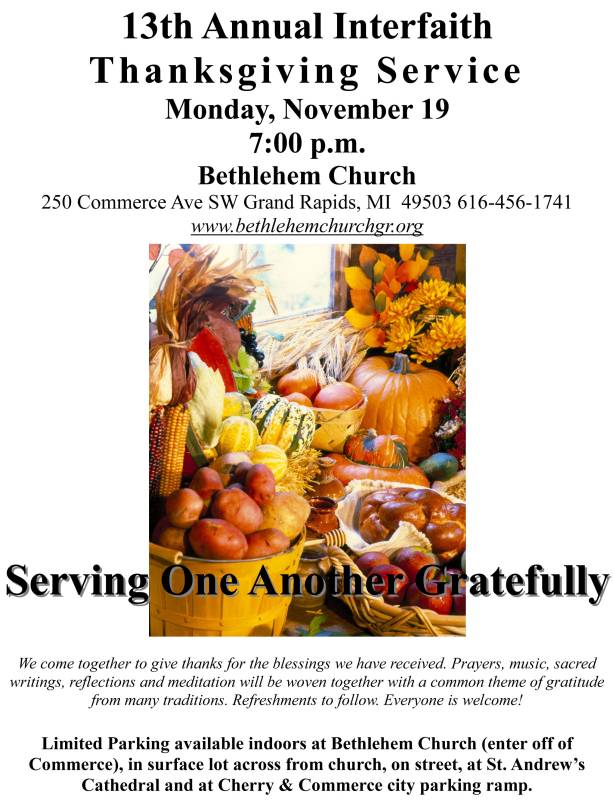 The Grand Rapids Interfaith Thanksgiving Celebration has been celebrated annually since the year 2000. The event features participation from a wide variety of Christian denominations and representatives of Native American, Jewish, Muslim, Baha'i, Buddhist, Hindu, secular, and inclusive religious communities. We come together to give thanks for the blessings we have received. Prayers, music, sacred writings, reflections and meditation will be woven together with a common theme of gratitude from many traditions.
The human desire to express gratitude is felt among all religious traditions and in secular society. How people express thanksgiving takes many different shapes and styles. The Grand Rapids Interfaith Thanksgiving Celebration is an opportunity for people of diverse traditions to listen, to share, and to better understand one another. No one is asked to compromise their beliefs, just to come together and share their stories, their cultures, and their gratitude.
The 2012 Interfaith Thanksgiving Celebration will be held at Bethlehem Church on Monday, November 19 at 7:00 pm. Refreshments to follow. Everyone is welcome! Please share our invitation with others.
Gratitude naturally leads to giving. To address one of the needs in the community, an offering will be taken up during the service to benefit Family Promise of Grand Rapids. Family Promise of Grand Rapids is dedicated to providing hospitality to homeless families in Kent County, to keep them together in a time of crisis. They assist families during temporary periods of homelessness, encourage them to create an achievable vision and develop a strong foundation for self-sufficiency.
Interfaith dialogue is currently receiving increased attention. The year 2012 was designated the "Year of Interfaith Understanding," led by Grand Valley State University's Kaufman Interfaith Institute. The effort promotes a yearlong engagement of the topic of interfaith understanding. Such understanding is a vital part of building trust and overcoming prejudice among people.
The Grand Rapids Interfaith Thanksgiving committee can be reached on Facebook:


https://www.facebook.com/gr.interfaith.thanksgiving

By email: interfaith.thanksgiving.gr@gmail.com