Grand Rapids Interfaith Thanksgiving Celebration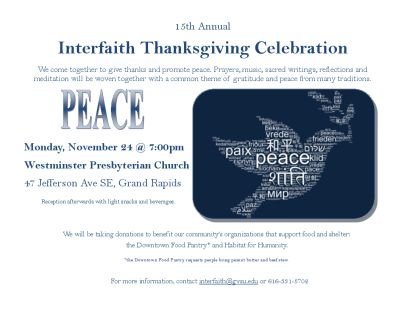 The Grand Rapids Interfaith Thanksgiving Celebration has been celebrated annually since the year 2000. The event features participation from a wide variety of Christian denominations and representatives of Native American, Jewish, Muslim, Baha'i, Buddhist, Hindu, secular, and inclusive religious communities. We come together to give thanks for the blessings we have received. Prayers, music, sacred writings, reflections and meditation will be woven together with a common theme of gratitude from many traditions.
Before becoming a city-wide event, Interfaith Thanksgiving Services in Grand Rapids were held between Marywood Dominican Sisters, Congregation Ahavas Israel, Holy Trinity Greek Orthodox and Third Reformed Church beginning in 1987. That tradition became our Grand Rapids Interfaith Thanksgiving Celebration in 2000 when the number of churches and faith traditions participating was greatly expanded.
The human desire to express gratitude is felt among all religious traditions and in secular society. How people express thanksgiving takes many different shapes and styles. The Grand Rapids Interfaith Thanksgiving Celebration is an opportunity for people of diverse traditions to listen, to share, and to better understand one another. No one is asked to compromise their beliefs, just to come together and share their stories, their cultures, and their gratitude.
The 2014 Interfaith Thanksgiving Celebration will be held at Westminster Presbyterian Church on Monday, November 24 at 7:00 pm. Refreshments to follow. Everyone is welcome! Please share our invitation with others.
Gratitude naturally leads to generosity. To address needs in the community, an offering will be taken up during the service to benefit the Downtown Food Pantry and Habitat for Humanity of Kent County. The Downtown Food Pantry provides emergency supplies of food and personal care items to people in need, while also promoting self-sufficiency through referrals and education. Habitat for Humanity coordinates interfaith service opportunities as part of the 2015 Year of Interfaith Service initiative, led by Grand Valley State University's Kaufman Interfaith Institute.
The Grand Rapids Interfaith Thanksgiving committee can be reached on Facebook:


https://www.facebook.com/gr.interfaith.thanksgiving

By email: interfaith.thanksgiving.gr@gmail.com